Description
• Suitable from 10 months old
• With full-cream goat's milk
• Creamy flavour
• Organically certified
• With GOS fibres
• With omega-3 DHA* from algae
• Lactose only
• Palm-free
• Soy-free
• GMO-free
• Free of tuna extracts
• Can be kept for 3 weeks after opening
• 800 g ℮
* As of 2020, the addition of omega-3 DHA to infant formula is required by law.
Whole goat milk powder* (milk), goat lactose* (milk), vegetable oils* (sunflower oil, rapeseed oil), galacto-oligosaccharide syrup* (GOS) (milk), algal oil powder (DHA) (milk), minerals (calcium hydroxide, sodium citrate, magnesium chloride, calcium carbonate, iron (II) lactate, zinc sulphate, copper (II) sulphate manganese sulphate, potassium iodide, sodium selenite), vitamins (L-ascorbic acid, DL-α-tocopheryl acetate, cholecalciferol, retinyl acetate, nicotinamide, calcium D-pantothenate thiamine hydrochloride, pyridoxine hydrochloride, folic acid, riboflavin, phytomenadione, biotin, cyanocobalamin), L-cystine, L-tryptophan, L-tyrosine (allergens are shown in bold)
* From organic origin
1. Boil bottles and teats for about 5 minutes to sterilise them. Wash your hands and make sure the area where you prepare the food is clean and tidy.
2. Put the indicated amount of boiled water into the bottle as soon as it has cooled down to about 40°C.
3. Add the correct number of level scoops of powder to the water in the bottle.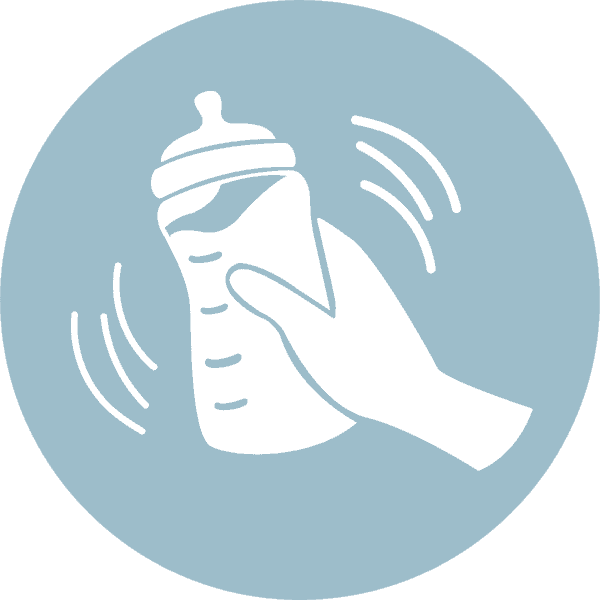 4. Turn the cap with the teat on the bottle and shake or swirl until all the powder is dissolved. Always check the temperature of the milk on the inside of your wrist.
Important: Always prepare the formula fresh and throw away any leftovers within an hour of it being prepared. Do not reheat it. Clean the bottle and teat thoroughly after use. When your child is 1 year old, it is better to use a sippy cup than a bottle with a teat.
Improper preparation and storage may pose health risks.
| Age of your baby (in months) | Feedings per day | Prepared food (ml) | Amount of water (ml) | Number of scoops* |
| --- | --- | --- | --- | --- |
| 10 – 12 | 2 – 3 | 200 | 180 | 6 |
| > 12 | 2 | 200 | 180 | 6 |
* 1 level scoop: 4.4 g. Soluble ratio: 30 ml water + 1 level scoop
The above schedule is an advice;
use it as a guideline. Only use the measuring spoon included in this packaging. It's okay if your baby doesn't always finish the bottle. From the age of 6 months old, your baby needs other (solid) foods too. Always consult your doctor or child health care centre before starting this.
Average Nutritional Value
| | | | |
| --- | --- | --- | --- |
| | Per 100 g | Per 100 ml* | |
| Energy | 510 | 67 | kcal |
| | 2133 | 282 | kJ |
| Fats, of which | 27,7 | 3,7 | g |
| Saturates | 11,6 | 1,5 | g |
| Mono-unsaturates | 11,4 | 1,5 | g |
| Polyunsaturates, of which | 3,9 | 0,5 | g |
| Linoleic acid | 3,5 | 0,5 | g |
| α-Linolenic Acid | 416 | 55 | mg |
| Docosahexaenoic acid (DHA) | 108 | 14 | mg |
| Carbohydrates, of which | 51,9 | 6,9 | g |
| Sugar | 51,9 | 6,9 | g |
| Lactose | 50,4 | 6,6 | g |
| Fibres (GOS) | 2,7 | 0,4 | g |
| Protein | 12,0 | 1,6 | g |
| Vitamins |   |   | |
| Vitamin A (RE) | 395 | 52 | μg |
| Vitamin D | 10,7 | 1,4 | μg |
| Thiamine | 440 | 60 | mg |
| Riboflavin | 574 | 76 | μg |
| Niacin | 3,3 | 0,4 | mg |
| Pantothenic acid | 3 | 0,4 | μg |
| Vitamin B6 | 340 | 44 | μg |
| Biotin | 17,5 | 2,3 | μg |
| Folate (DFE) | 158 | 21 | μg |
| Vitamin B12 | 1,3 | 0,2 | mg |
| Vitamin C | 80 | 12 | μg |
| Vitamin K1 | 30 | 4,0 | mg |
| Vitamin E (α-TE) | 10,3 | 1,4 | μg |
| Minerals | | | |
| Sodium | 150 | 20 | mg |
| Potassium | 718 | 95 | mg |
| Chloride | 565 | 75 | mg |
| Calcium | 590 | 78 | mg |
| Phosphorus | 380 | 50 | mg |
| Magnesium | 58,2 | 7,7 | μg |
| Iron | 8,1 | 1,1 | μg |
| Zinc | 3,5 | 0,5 | μg |
| Copper | 350 | 47 | mg |
| Iodine | 92 | 12 | mg |
| Selenium | 19,2 | 2,5 | mg |
| Manganese | 46 | 6 | μg |
| Fluoride | 25 | 3 | μg |
* 13.2 g powder + 90 ml water = 100 ml prepared food